Orphan Outreach Camp in Moldova – Volunteers Needed!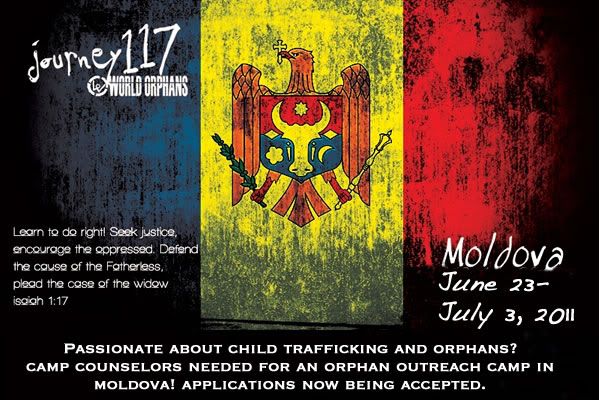 Greetings!

Moldova, a country located in eastern Europe, is a prime target for child traffickers. In a dark country void of Christian orphanages, these children are often unaware of the realities of sex and commercial trafficking. At age 16 they are forced to leave the government orphanages, often ending up on the streets and lured by traffickers promising jobs and security.

Use your summer to make a difference in the lives of orphans in Moldova. Invest in them with your time and love and provide HOPE for their future. Details are below. Hope to see you on the Journey!

Until they all have homes,




Lori Resmer

Director, Journey 117

Summer Orphans Outreach Camp

Give hope to 200 orphans this summer in Moldova

Join our Journey 117 team and help lead an orphan outreach camp alongside Moldovan believers. This camp was designed to provide a week-long opportunity for the fatherless from various orphanages around the country to come together and experience the love of Christ. Our team will help lead recreational activities, assist with other camp duties such as cooking and cleaning, and lead small group VBS-type activities. Additionally, the team will help with the seminars that are taught to educate the orphans on the realities of child trafficking. The goal is to make them aware of this so that when they hit the streets as a teenager, they are knowledgeable and equipped and do not fall prey to human traffickers.

This is quite possibly the only opportunity these children have throughout the year to be loved on and pointed to Christ.

We need your help! We need at least 10 team members to make this camp happen. Will you consider applying to serve this summer on behalf of these orphans in Moldova? Join us on the conference call to learn more or contact the Journey 117 office for details.

Moldova Orphan Camp Informational Conference Call



Saturday, Jan.22




9am PST (12pm EST)




(712) 432-2800




PIN: 888-598

Moldova Journey 2011 Orphan Outreach Camp

Dates:
June 23-July 3, 2011

Cost:
$3000 (approx)

Deadline to Sign Up:
March 31, 2011

Get Involved:
- Join the Conference Call
- Read More Online
– Contact Us
– Apply Online

Can't go but want to help send an orphan to camp?
- Donate Online

What is J117?


A Journey trip is an opportunity for you to learn, experience and grow. An essential part of the Journey is to learn more about God's heart for the orphan, widow and outcast. You will be led through a discipleship process prior to and during your Journey trip that will open your eyes to the crisis around the world and teach you what God has called us as the church to do in response.

Our goal at Journey 117 is to equip you to live out the rest of your days as an advocate. When your Journey trip is over, it's not really over….it's only the beginning of YOUR journey. What you decide to do with the knowledge, compassion and experience is up to you. Our prayer is that you will walk away with a clear understanding of the verbs of Isaiah 1:17 and put those into action for the rest of your days: LEARN, SEEK, HELP, DEFEND, FIGHT.